Contact Information
7922 Opossumtown Pike
Frederick, MD 21702
Phone: 240-236-8500
Fax: 240-236-8501
Principal: Michael Concepcion
AP: Jack Newkirk
School Counselors:
EL Coordinator:
Registrar:
Office Hours
7:00 a.m - 3:30 p.m M-F
Body
Welcome to CTC
Career & Technology Center Back to School Night!
August 15th 6:00-7:30 PM @ the Career & Technology Center
7922 Oppossumtown Pike, Frederick, MD 21702
**NEW STUDENTS ONLY**
The Career & Technology Center (CTC) Back to School Night will be held on August 15th from 6:00 – 7:30 pm.  Students new to CTC and their parents/guardians are encouraged to attend to meet with their instructor, learn about the program curriculum, specific program requirements, career and college pathways, and potential benefits of enrollment.
Questions? Contact the CTC Counseling Office at 240-236-8493 or valerie.barbeito@fcps.org.
---
Applications are being accepted for open seats in the following programs only: 
Agribusiness
Teacher Academy 
Environmental Landscape Design & Management (waitlist only) 
Questions?  Contact kristen.daly@fcps.org or valerie.barbeito@fcps.org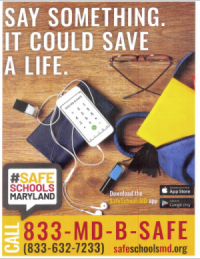 The Safe Schools Maryland Tip Line is an anonymous reporting system used to report threats to the safety and/or well-being of students. Students, parents, faculty, staff, and members of communities throughout Maryland may use this anonymous, app- and web-based reporting system to share their concerns, such as:
Mental health crises ~ Bullying ~ School and community violence ~ Drug activity ~ Abuse ~ Harassment ~ Other issues affecting our Maryland students
The Safe Schools Maryland Tip Line is a tool for proactively addressing harmful situations and helping students who need it. By using a variety of communication modes to support the reporting and routing of tips, The Safe Schools Maryland Tip Line empowers the citizens of Maryland to create a culture of preparedness, prevention, and school safety for our students.
For Tip Line information, see the Maryland Center For School Safety website: http://safeschoolsmd.org/
See Safe Schools Maryland Tip Line Flyer here: https://fcps.ezcommunicator.net/edu/Frederick/GetFile.aspx?DocId=10985