Contact Information
7922 Opossumtown Pike
Frederick, MD 21702
Phone: 240-236-8500
Fax: 240-236-8501
Principal: Michael Concepcion
AP: Jack Newkirk
School Counselors:
EL Coordinator:
Registrar:
Office Hours
7:00 a.m - 3:30 p.m M-F
Body
Welcome to CTC!
Shadowing is open! 
CTC Shadowing November 1st - February 28th
Last day to sign up for a shadow is February 17th, 2023!
Click below for more information and to request a shadow! 
https://edu.fcps.org/ctc/shadowing-0
---
Attention Current CTC Seniors!
The CTC Scholarship 2022-2023 online application is NOW available!
Scholarships are open to all CTC Seniors who have previously completed their CTC program OR are currently attending CTC. Multiple scholarships are available!
Deadline to Apply: Tuesday, January 31st at 2:00 p.m.
So, don't delay, fill out the online application today!!
Click link or scan QR code here for the Scholarship Application.
https://pubforms.fcps.org/view.php?id=110599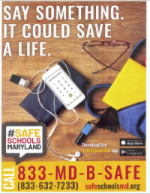 The Safe Schools Maryland Tip Line is an anonymous reporting system used to report threats to the safety and/or well-being of students. Students, parents, faculty, staff, and members of communities throughout Maryland may use this anonymous, app- and web-based reporting system to share their concerns, such as:
Mental health crises ~ Bullying ~ School and community violence ~ Drug activity ~ Abuse ~ Harassment ~ Other issues affecting our Maryland students
The Safe Schools Maryland Tip Line is a tool for proactively addressing harmful situations and helping students who need it. By using a variety of communication modes to support the reporting and routing of tips, The Safe Schools Maryland Tip Line empowers the citizens of Maryland to create a culture of preparedness, prevention, and school safety for our students.
For Tip Line information, see the Maryland Center For School Safety website: http://safeschoolsmd.org/
See Safe Schools Maryland Tip Line Flyer here: https://fcps.ezcommunicator.net/edu/Frederick/GetFile.aspx?DocId=10985