Shadowing a CTC Program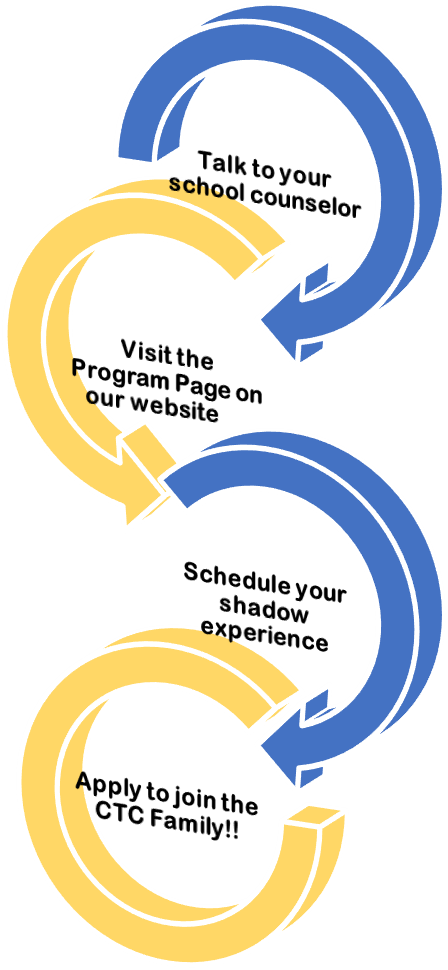 **SHADOWING IS NOW CLOSED**
Students interested in applying to a CTC program must first schedule a shadow
experience for the program(s) they would like to apply for.  Shadowing is mandatory
for applying to any program offered at CTC. Students may shadow and
apply for up to two programs.  Students are encouraged to select programs to
shadow by talking with their high school counselor or by checking out
the programs on our CTC web site.  
On the day shadowing takes place students will ride the CTC bus from their
high school to and from CTC for half of the day.  During the shadow experience 
students can expect to meet with the instructor and other students interested in the 
program, as well as students currently enrolled in that program. Students are able to
ask questions about the program and hear the expectations of the instructor.   The
shadow experience is also a part of the acceptance criteria.  To learn more about the
acceptance criteria check out the Frequently Asked Questions.  
The shadowing and application process begins in November each year
and runs through February.  Students may shadow and apply at anytime
during that period. 
Shadowing and applications will be accepted after February
during the 2nd round of applications only for programs that still have open seats.  
*Please note - if you have already shadowed an open program you do not need to re-shadow.*
For more information about CTC and the shadow, application, and enrollment
process click here or check out the FAQs page.
Please remember you MUST shadow a program before Applying.
Applications that are made without a shadow experience will not be considered.    
*Please note - if you have already shadowed an open program you do not need to re-shadow.*
CLICK HERE TO REQUEST A SHADOW
LOG-IN - FCPS User ID - ex. 05JDoe (WITHOUT my.fcps.org) & Password