Administration
Principal: Donna Clabaugh
Assistant Principals
| | |
| --- | --- |
| A-C | Ashley Fisher |
| D-I | Michael Hombach |
| J-Mh | Kalila Wilson |
| Mi-Sd | Amanda McGrath |
| Se-Z | Cory Matheny |
Welcome to the 2022-23 School Year
Save The Date
---
Chromebook Distribution
Monday, August 15
8 a.m. to 12 noon   All students
Please use the main entrance only.  Distribution will occur in the Media Center. 
Please note, that the evening of August 15 is the UHS Back to School Night.  No Chromebooks will be distributed that evening.
---
Back-To-School Night - Monday, August 15 
For Students & Parents - Please review your student's updated schedule in Schoology prior to attending.
Doors open at 5:15 PM
5:30 pm Informational Presentation for Student/Parents New to UHS (Auditorium)
Classroom Visits:
6:00 pm Block 1
6:15 pm Block 2
6:30 pm Block 3
6:45 pm Block 4
7:00 pm - 8:00 pm Community Fair (Cafeteria)
First Day of School for Students - Wednesday, August 17
Breakfast$1.85 Lunch $2.90 Breakfast and lunch are free to students who qualify for free or reduced-price meals.
Apply NOW for Free and Reduced-Price Meal Benefits Applications
Click Here - English Application 
Be on the look out for additional information via Find Out First and Schoology in the upcoming weeks.
Core Four Values
Respect
Integrity
Unity
Pride
Mission Statement
United by high standards, Urbana High School empowers students to achieve their full potential and make a positive difference in their local and global communities.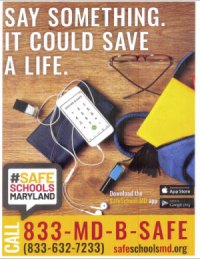 The Safe Schools Maryland Tip Line is an anonymous reporting system used to report threats to the safety and/or well-being of students. Students, parents, faculty, staff, and members of communities throughout Maryland may use this anonymous, app- and web-based reporting system to share their concerns, such as:
Mental health crises ~ Bullying ~ School and community violence ~ Drug activity ~ Abuse ~ Harassment ~ Other issues affecting our Maryland students
The Safe Schools Maryland Tip Line is a tool for proactively addressing harmful situations and helping students who need it. By using a variety of communication modes to support the reporting and routing of tips, The Safe Schools Maryland Tip Line empowers the citizens of Maryland to create a culture of preparedness, prevention, and school safety for our students.
For Tip Line information, see the Maryland Center For School Safety website: http://safeschoolsmd.org/
See Safe Schools Maryland Tip Line Flyer here: https://fcps.ezcommunicator.net/edu/Frederick/GetFile.aspx?DocId=10985