Welcome to Middletown High School

---
MHS Chromebook Distribution
The following opportunities are available for any student who would like to pick up an FCPS-issued Chromebook before the start of the school year.
Chromebook distribution will take place in the Media Center on the following dates and times:
Friday, August 12 - 12:30 PM to 2:30 PM during MHS open house
Monday, August 15 - 5 PM to 7 PM
Tuesday, August 16 - 1 PM to 3 PM
If you have any questions, please contact tammy.barlow@fcps.org.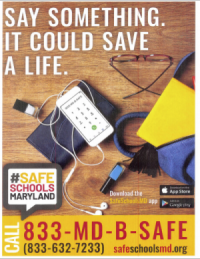 The Safe Schools Maryland Tip Line is an anonymous reporting system used to report threats to the safety and/or well-being of students. Students, parents, faculty, staff, and members of communities throughout Maryland may use this anonymous, app- and web-based reporting system to share their concerns, such as:
Mental health crises ~ Bullying ~ School and community violence ~ Drug activity ~ Abuse ~ Harassment ~ Other issues affecting our Maryland students
The Safe Schools Maryland Tip Line is a tool for proactively addressing harmful situations and helping students who need it. By using a variety of communication modes to support the reporting and routing of tips, The Safe Schools Maryland Tip Line empowers the citizens of Maryland to create a culture of preparedness, prevention, and school safety for our students.
For Tip Line information, see the Maryland Center For School Safety website: http://safeschoolsmd.org/
See Safe Schools Maryland Tip Line Flyer here: https://fcps.ezcommunicator.net/edu/Frederick/GetFile.aspx?DocId=10985