Welcome to Middletown High School

---
Tutor Me
"Tutor Me" Virtual Tutoring Services
TutorMe.com, a  free student online tutoring and homework help service, is now available in any subject for students in grades 6-12. 
TutorMe.com is a secure, online resource easily accessible through the FCPS Clever Portal and offers on-demand assistance.
The TutorMe.com service provides assistance that aligns with the FCPS curriculum, including knowledge of new curriculum tools being implemented.
The service maintains rigorous standards providing high-quality, diverse tutors, screened for excellence (including a criminal background check). The service is available 7 days a week, 24 hours a day.
Features include:

An online lesson space with a virtual whiteboard - Demo Space
Text editor and chat space
Audio/video chat (although you do not have to use this feature or turn on your camera)
A function to allow sharing of screenshots of work examples to assist tutors as they provide support
More than 300 subjects from math to science, social studies and languages
Directions for how students can access the service are here.
More information is available at the vendor website, www.tutorme.com  and this Student Support Document.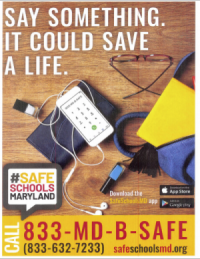 The Safe Schools Maryland Tip Line is an anonymous reporting system used to report threats to the safety and/or well-being of students. Students, parents, faculty, staff, and members of communities throughout Maryland may use this anonymous, app- and web-based reporting system to share their concerns, such as:
Mental health crises ~ Bullying ~ School and community violence ~ Drug activity ~ Abuse ~ Harassment ~ Other issues affecting our Maryland students
The Safe Schools Maryland Tip Line is a tool for proactively addressing harmful situations and helping students who need it. By using a variety of communication modes to support the reporting and routing of tips, The Safe Schools Maryland Tip Line empowers the citizens of Maryland to create a culture of preparedness, prevention, and school safety for our students.
For Tip Line information, see the Maryland Center For School Safety website: http://safeschoolsmd.org/
See Safe Schools Maryland Tip Line Flyer here: https://fcps.ezcommunicator.net/edu/Frederick/GetFile.aspx?DocId=10985