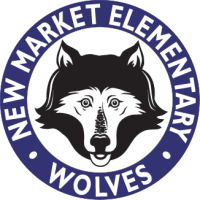 Our Shared VISION
New Market Elementary School (NMES) is a school where parents want to send their children, where students love to be, and where staff want to work. 
It is a safe place

– physically, socially, and emotionally for all who are here.  When you are here, you are welcomed, loved, included, supported, valued, respected, and treated with care.

It is a place where the joys of teaching and learning aren't forgotten

.  When you are here you are encouraged to be curious, inquisitive, engaged, and empowered. You are given access, opportunities, and experiences to reach your potential, as the building blocks of success for your future are firmly built each year you are here.

It is a place that the entire community values

, is proud of, and contributes to; where parents, teachers, students, and community members work together for the betterment of our students, staff, and school community at large.
The high expectations for academic achievement and good character that are carefully and intentionally developed at NMES will serve our students well beyond their elementary school years.  They will be future-ready individuals, family members, employees, neighbors, and citizens; who will see obstacles, challenges, and set-backs, not as limitations- but as opportunities for growth.
Now, and many years from now, students, parents, and staff will look back on their experiences at NMES with great reverence, and recognize that they were, and always will be, part of an incredible school community.