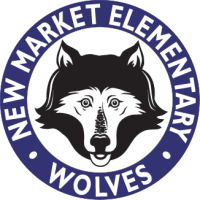 The New Market Elementary School MISSION:
To serve and support our students – every student, by name and need.
In order to achieve the VISION of NMES, the day-to-day MISSION of NMES is to work relentlessly, thoughtfully, and intentionally on behalf of our students.  We are here for one purpose – to serve and support our students' academic, behavioral, social, and emotional needs – every student by name and need - so that all students can access instruction and achieve to their highest potential.
In serving our students, we want them to feel welcomed, safe, and valued at our school.  We want them to be happy, have friends, and be treated with respect.  We work tirelessly on what it means to "Be a Wolf" and teach and reinforce the expectations of good character and good citizenship.

In serving our students, we want them to experience academic success.  We provide opportunities for all students to engage in exciting lessons, build their skills and experiences, ask questions, be problem solvers, and learn from mistakes.  We utilize the data and resources available to us to make thoughtful and timely decisions for supporting students' needs.

In serving our students, we know that it takes strong collaboration and communication with our families to be successful.  We see parents as our partners in their child's education.  We want parents to be involved in their children's school experience.  We proactively communicate throughout the school year and welcome two-way communication with our parents and guardians.