Administrative Contact Information
5810 Oakdale School Rd
Ijamsville, MD 21754
Phone: 240-236-5500 
Fax: 240-236-5501
Principal:
Daniel Enck
Assistant Principals: 
Toby Heusser
Brianna Zeoli
School Hours 
Monday - Friday
8:00 a.m. - 3:12 p.m.
Our doors open to students at 7:45 a.m.
Tech Resources
Electronic Device User Agreement
Technology Repairs & Replacements
User Support Specialist: 
James Hanson
Updates & Announcements
Course Guide & Electives Information for 2023-24 School Year
MS has partnered with Weis Markets - Weis 4 School Program: Earn $$ for OMS by grocery shopping. Click HERE to get started!
Parents/Guardians are welcome to drop off school materials, lunches, or other items throughout the school day. However, in an effort to maximize instructional time and decrease classroom interruptions, these items will only be delivered to students during their lunch shift or at the very end of the school day.
Need info about bus stops, absences, school lunch, school supplies, drop off/pick-up & more? Reference this "Frequently Asked Questions" Resource!
Essential School Supply List
Order Spirit Wear & PE Uniforms here
Community SOAR Report:
Attendance
Please email absence notes to OMS.attendance@fcps.org the morning of your student's absence. For more information about attendance policies, click here.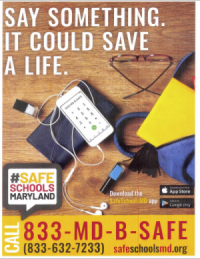 The Safe Schools Maryland Tip Line is an anonymous reporting system used to report threats to the safety and/or well-being of students. Students, parents, faculty, staff, and members of communities throughout Maryland may use this anonymous, app- and web-based reporting system to share their concerns, such as:
Mental health crises ~ Bullying ~ School and community violence ~ Drug activity ~ Abuse ~ Harassment ~ Other issues affecting our Maryland students
The Safe Schools Maryland Tip Line is a tool for proactively addressing harmful situations and helping students who need it. By using a variety of communication modes to support the reporting and routing of tips, The Safe Schools Maryland Tip Line empowers the citizens of Maryland to create a culture of preparedness, prevention, and school safety for our students.
For Tip Line information, see the Maryland Center For School Safety website: http://safeschoolsmd.org/
See Safe Schools Maryland Tip Line Flyer here: https://fcps.ezcommunicator.net/edu/Frederick/GetFile.aspx?DocId=10985