Important Announcements
Welcome Cadets!
Parking Permits
Preference will go to Seniors and Off Campus Dual Enrollment and Work Study/ Internship Students.
For more information and to apply click here
---
PSAT/NMSQT REGISTRATION OPENS SEPTEMBER 1
(Preliminary Scholastic Aptitude Test/National Merit Scholarship Qualifying Test)
Exam Date: Wednesday, October 12
7:30 AM to approximately 11:00 AM
Who Can Take the PSAT?
The PSAT/NMSQT is an optional test that is available primarily for 10 graders. We recommend the PSAT for current 10th and any 11th graders who plan to take the SAT in the future.  Please note that the test includes math content from courses through Algebra 2, which 9th and 10th graders may not have yet taken. 
Why Take the PSAT?
The PSAT acts as a precursor to the SAT as the two tests largely mirror each other in content and structure.  The PSAT has fewer questions than the SAT.   More information can be found about the test on https://satsuite.collegeboard.org/psat-nmsqt. 
NOTE: For 11th graders only, PSAT scores determine students' eligibility for the National Merit Scholarship Program. 
Students who have free/reduced lunch status will not be required to pay. If this applies, please contact Patrick Foster at Patrick.foster@fcps.org.  Do not make School Cash Online payment.
Registration
To register and pay for the PSAT, use School Cash Online at: https://frederickcounty.schoolcashonline.com.  The fee for the PSAT is $18.00.  Registration will open Wednesday, September 1 and closes on Wednesday, September 15, at 11:59 PM.  This is a fixed deadline - there is no opportunity for late registrations/payments.
Completing the payment in School Cash Online means the student is registered for the test (there is no additional required paperwork).
Home-School Students
Students who are not enrolled in Frederick County Public Schools and participate in an independent home-schooling program may register to take the PSAT at Frederick High School if they live in the FHS school zone.  Please e-mail Patrick Foster at Patrick.foster@fcps.org. Payment will need to be made by check (made out to Frederick High School) or exact cash payment.
Refunds
If a student does not take the test on test day due to circumstances beyond his/her control, a refund needs to be requested by October 15.  Late arrivals will not be admitted into testing rooms on test day - refunds will not be issued in this circumstance.
Test Preparation
PSAT practice items can be found online at: https://collegereadiness.collegeboard.org/psat-nmsqt-psat-10/practice.  PSAT Student Guides will be available after October 1 for students to pick up in the Counseling Office during all lunch shifts.
What to Bring on Test Day:
Two No. 2 pencils with erasers
A calculator
---
Free and Reduced Meals 
Breakfast and lunch are no longer free to all students this year.
If you think your student is eligible for free or reduced lunch prices click here for an application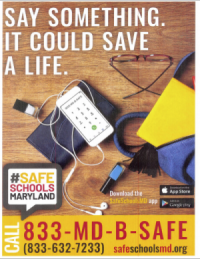 The Safe Schools Maryland Tip Line is an anonymous reporting system used to report threats to the safety and/or well-being of students. Students, parents, faculty, staff, and members of communities throughout Maryland may use this anonymous, app- and web-based reporting system to share their concerns, such as:
Mental health crises ~ Bullying ~ School and community violence ~ Drug activity ~ Abuse ~ Harassment ~ Other issues affecting our Maryland students
The Safe Schools Maryland Tip Line is a tool for proactively addressing harmful situations and helping students who need it. By using a variety of communication modes to support the reporting and routing of tips, The Safe Schools Maryland Tip Line empowers the citizens of Maryland to create a culture of preparedness, prevention, and school safety for our students.
For Tip Line information, see the Maryland Center For School Safety website: http://safeschoolsmd.org/
See Safe Schools Maryland Tip Line Flyer here: https://fcps.ezcommunicator.net/edu/Frederick/GetFile.aspx?DocId=10985