Important Upcoming Summer 2022 Dates for WKMS Wolverines
WKMS is hosting its Summer Open House on 
August 9, 2022
Incoming 6th graders from 8:30 – 11:30 a.m.
Returning 7th and 8th graders from 1 – 4 p.m.
Students may "walk their schedule" and check-out their FCPS Chromebooks. * If your child is unable to pick-up their Chromebook during Open House, they will be receiving it during the first week of school.
Also join us for Back to School Night on
August 11, 2022 
here at WKMS from 5:00 – 7:30 p.m. 
*Please note the slightly adjusted start time for Back to School Night.*
*More information will be forthcoming as we get closer to the actual dates.*
Alternative Times for Schedule Pick Up
If you are unable to attend Open House and/or Back to School Night, you are welcome to pick up your student's schedule and a school map in the front office at the following times:
Monday, August 15, from 1 – 3
Tuesday, August 16, from 9 – 11
Please understand that touring the building will not be available on these days as meetings will be occurring. 
Thank you in advance.
Attendance & Registrar Information
Attendance
Please email all attendance matters. Doctor notes are encouraged. Attendance Policy
Registrar & Enrollment
Need to enroll a student, please visit FCPS Enrollment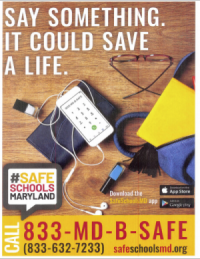 The Safe Schools Maryland Tip Line is an anonymous reporting system used to report threats to the safety and/or well-being of students. Students, parents, faculty, staff, and members of communities throughout Maryland may use this anonymous, app- and web-based reporting system to share their concerns, such as:
Mental health crises ~ Bullying ~ School and community violence ~ Drug activity ~ Abuse ~ Harassment ~ Other issues affecting our Maryland students
The Safe Schools Maryland Tip Line is a tool for proactively addressing harmful situations and helping students who need it. By using a variety of communication modes to support the reporting and routing of tips, The Safe Schools Maryland Tip Line empowers the citizens of Maryland to create a culture of preparedness, prevention, and school safety for our students.
For Tip Line information, see the Maryland Center For School Safety website: http://safeschoolsmd.org/
See Safe Schools Maryland Tip Line Flyer here: https://fcps.ezcommunicator.net/edu/Frederick/GetFile.aspx?DocId=10985