The History of the Arboretum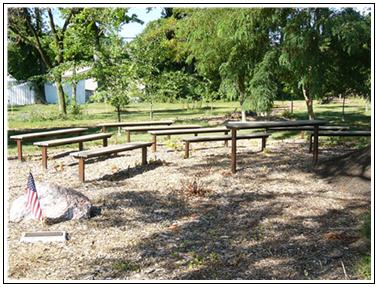 The Arboretum was established by a reforestation grant from Frederick County, Maryland.  The arboretum was planned and organized by the department of Natural Resources, The Maryland Forestry Board, and the Earth and Space Science Laboratory.  The students and staff of South Frederick (2003 - 2004), the Community Commons, Master Gardeners of Frederick, the operations Department of Frederick County Public Schools, students from the Career and Technology School, and the City of Frederick helped to plant the trees.  The "big planting" took place on April 20, 2004. 
Every tree planted in this two-acre parcel is a "native species" and can be found growing throughout Frederick County.  More than 265 trees representing 70 different species are growing in the arboretum.  Large samples of rocks and minerals found in Frederick County were later added to the pathways to highlight the geology of the county.
The arboretum was planted in three sections.  The trees marked with green signs are considered "lowland" species and are found closer to streams and rivers.  The trees marked with red signs are considered "upland trees" and are found on the mountains and at higher elevations of Frederick.  The trees marked with black signs are considered to be "mid-slope" trees and are found between the lowland and upland trees of the county. 
The arboretum has been designed to simulate a walk through Frederick County: through the lowlands, across the piedmont, and to the Catoctin Mountains. 
See a printable self guided tour of the aboretum.