Brunswick Middle School Contact Information
301 Cummings Drive
Brunswick, MD 21716
Phone: 240-236-5400 
Fax: 240-236-5401 
---
Principal: 
AP:  
---
Office Hours 
7:30 a.m- 4:00 p.m.
Monday - Friday
School Counseling
240-236-5362
240-236-5356
Welcome Back!
Dear BMS Parents and Guardians,
We hope you are enjoying your summer vacation!  The wellness of our families has been in the forefront of our thinking over the last few months, and we truly hope your family is in good health. This summer, many of our young people were once again able to enjoy summer camps, enrichment programs, sports and vacations. I hope everyone has an opportunity to relax and take pleasure in all the activities summer offers.  We are so pleased to have the opportunity to work with such enthusiastic and capable students. This time of year can be filled with excitement and a little anxiety as students prepare to return to school.  Please know that the staff at BMS is committed to working hard to make sure you and your child have a positive experience as we start our new school year.
Students will start school on Wednesday, August 17th. Students may enter the building at 7:30 AM. All students will enter through the cafeteria doors.  Sixth graders will report to the cafeteria. Seventh and eighth graders will report to the gymnasium. School begins at 8:00 AM and dismisses at 3:00 PM. All students are assigned to an Advisory Class Time.  During the first three days of school, all students will attend their Advisory class at the start of each school day where they will receive valuable information to help them to have a successful year. On Monday, August 22nd, students will begin reporting directly to their first period class following morning arrival.  
This school year we have an exciting change in our Counseling Department.  We welcome Ms. Erin Malone in her new role as Counselor.  Ms. Malone is the 8th grade counselor and Ms. Kelly Mahn is the 6th grade counselor.  The counselors will divide the 7th grade as follows:  Ms. Kelly Mahn - last names A-K and Ms. Erin Malone - last names L-Z.  
FCPS will provide a chromebook for your child's use throughout the school year. Parents may also choose not to utilize a device from FCPS and instead purchase a device for their child's use. Information regarding the specification for personal devices is on the school supply list which is also included in this communication.  All students will receive their chromebooks during the first few days of school.     
On August 4th from 12:00pm-3:00pm (7th & 8th Grade) & 4:00pm-6:00pm (6th Grade Only) you are invited to attend our Open House. During this event, you can come in for a self-guided tour to locate classes and walk through your student's daily schedule.  We will provide a paper copy of your child's schedule and school maps.  Members of our school staff will be on hand to help families navigate the school building.
BMS is hosting our Back to School Night on Thursday, August 11th from 5:00pm-7:00pm.  Families may stop by anytime between 5pm and 7pm for the opportunity to informally tour our building and "meet and greet" with our teachers and other staff members.  We recommend that you bring a copy (paper or electronic) of your schedule.    
Student schedules will be available on August 8th in Schoology. Be on the lookout for an email from FCPS with information about accessing Schoology. Your schedule is based on your preferences as indicated on your registration sheet. We made every effort to honor students' requests for electives; however, not all students are able to get their first choice. Schedule changes will only be possible where an error has occurred with academic placement.
We value our partnership with our families and staying connected throughout the school year. We will accomplish this through Schoology,OneCallNow, school newsletters, our school website, and Find Out First. Please take a moment and review the School Supply List & Bell Schedules included with this letter.
We look forward to an amazing 2022-2023 school year with you!
Everett Warren
Principal
Judith Hale
Assistant Principal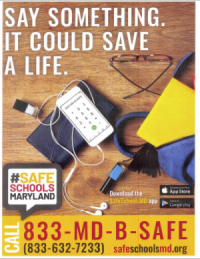 The Safe Schools Maryland Tip Line is an anonymous reporting system used to report threats to the safety and/or well-being of students. Students, parents, faculty, staff, and members of communities throughout Maryland may use this anonymous, app- and web-based reporting system to share their concerns, such as:
Mental health crises ~ Bullying ~ School and community violence ~ Drug activity ~ Abuse ~ Harassment ~ Other issues affecting our Maryland students
The Safe Schools Maryland Tip Line is a tool for proactively addressing harmful situations and helping students who need it. By using a variety of communication modes to support the reporting and routing of tips, The Safe Schools Maryland Tip Line empowers the citizens of Maryland to create a culture of preparedness, prevention, and school safety for our students.
For Tip Line information, see the Maryland Center For School Safety website: http://safeschoolsmd.org/
See Safe Schools Maryland Tip Line Flyer here: https://fcps.ezcommunicator.net/edu/Frederick/GetFile.aspx?DocId=10985