Mission & Vision
New Market Middle School's Mission:
The mission of the New Market Middle School community of students, staff, and parents is to foster the development of critical thinkers, problem solvers, effection communicators, and life-long learners who are prepared to be honorable, successful, and contributing members of the ever-changing 21st century.
New Market Middle School's Vision:
The NMMS learning community of students, staff, and parents will work collaboratively to exceed local, state, and national standards for student achievement, character development, teacher efficacy, and family and community involvement. The collective commitment will ensure:
Rigorous learning that challenges and supports all students to achieve at high levels and reacn their full potential
A welcoming, disciplined, and healthy environment that is conducive to student learning and character development
Highly qualified teachers are working in professional learning communities that focus on student learning and achievement
Parents and community members are partnering in the learning process of students
Time, material, and human resources are allocated in a manner that supports student learning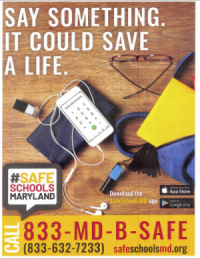 The Safe Schools Maryland Tip Line is an anonymous reporting system used to report threats to the safety and/or well-being of students. Students, parents, faculty, staff, and members of communities throughout Maryland may use this anonymous, app- and web-based reporting system to share their concerns, such as:
Mental health crises ~ Bullying ~ School and community violence ~ Drug activity ~ Abuse ~ Harassment ~ Other issues affecting our Maryland students
The Safe Schools Maryland Tip Line is a tool for proactively addressing harmful situations and helping students who need it. By using a variety of communication modes to support the reporting and routing of tips, The Safe Schools Maryland Tip Line empowers the citizens of Maryland to create a culture of preparedness, prevention, and school safety for our students.
For Tip Line information, see the Maryland Center For School Safety website: http://safeschoolsmd.org/
See Safe Schools Maryland Tip Line Flyer here: https://fcps.ezcommunicator.net/edu/Frederick/GetFile.aspx?DocId=10985